I started writing a new novel. It was a retelling of the Princess and the Pea story, where the pea was so tainted with dark magic it burned a hole through a dozen mattresses and the princess had to figure out who was trying to start a war. It was a fun idea, and I was excited to start.
The beginning was going well – I started with a lot of energy, but then this happened:
HALT!
The story quickly got away from me. It started out light and airy, full of fun humor. And then in the second chapter I was having the main character gouge someone's eye out with a knitting needle.
Not. Pretty.
I feel like the story still has a lot going for it. I like the premise. I just didn't know how to write it and I constantly felt like I was fighting it.
I'm not sure if I have the talent level right now to pull it off. I wanted to write it in past tense, but it kept demanding that I write it in present. I wanted it to be fun and middle grade, and it kept showing me it's darker underbelly of YA-ness. It's like it's this pretty idea out there, but I can't seem to grasp it and put it into words the way I typically would.
I was going through a tough time and must have emailed my critique partner a bazillion times about how this story was making me depressed. She talked me down from the ledge.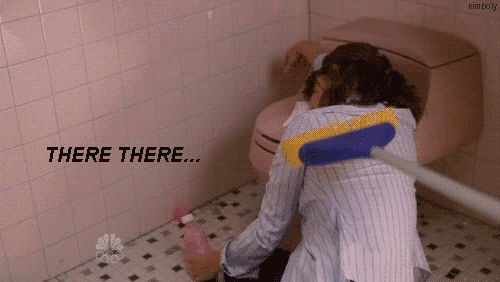 She really liked the story and wanted me to keep writing it. So I tried. I really did, but I kept getting stuck. It was awkward.
I hated working on it. Every time I opened up the document, I got a sad feeling inside because the story wasn't turning out the way I was expecting. It was like my characters kept making bad decisions, and I was the parent being forced to watch.
Eventually, I decided it'd be best if we parted ways. For now. It's an idea that keeps pulling me back. I'm sure it won't let me go entirely. I'll come back to it.
So while I will probably come back to it eventually, I've started working on something else. Something new and shiny. Something I'm excited about. It will be YA, which will be a fun change of pace for me. There'll be lots of awkwardness, embarrassing stuff and kissing. I've been writing nonstop and so I'm afraid I've neglected this little blog of mine and all my other responsibilities. Like showering. But that's okay, because right now I'm pretty happy with where I'm at.
Life is good folks — cuz I'm writing. What've you been up to in my absence?